Testimony- Natalie Seemungal
Current Position: Branch Manager
It's about the climb.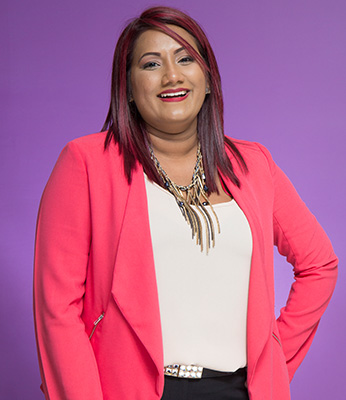 My mom passed at the age of 29 years when I was just 7 years old so I started working from a young age to help send my brother to school. I could have furthered my education and taken a different path but I would not have it any other way I have learned so much and am still learning.
I started in March 1996, at the age of 16. I worked at the old Aboutique Mall on Fredrick Street (where Rituals is presently located). There were three branches, one at Voyager Mall, Bedazzled was the name of the store (which sold Accessories) and Golden Doors. My Manager was Angie Braily who taught me well.
Ms. Sonja at that time will pick me up in her green wagon to help her sort goods at her home. She would pick me up on Sundays at City Gate to help with pricing and sharing to the stores.
I felt so welcomed at her home ,everyone was so warm, Ms. Sonja, Mr. Basil and Desiree .I remember having lunch with Mr. Basil on that day we had Steak, corn and baked potatoes that day, I was very nervous having lunch with such fine people.
My duties were showcases, Hair ornaments, Rings and assisting in other sections.
I remember when we had to write our sales in a book and add up at the end of the day for commission. I worked as a CSR for three years and was then offered the promotion of Manager for the West Mall Lingerie Branch.
However,  I declined the position because of my grandmother felt I was too young to travel the distance ( being Tunapuna to West Mall).It was very hard for me to let Ms. Sonja down so I told them the night we were packing out the store and my co-worker was offered  the position instead.
I returned to working with Angie. Wonderful World moved to the new location being Aboutique Mall were they are presently.
In 1999 I got engaged on Christmas Eve in the store in front my Manager and Ms. Sonja
and the entire staff and customers. In 2000 I was due to be married in August when I was once again offered managerial position at the Accessories West Mall branch, to which I accepted and did extremely well as far as sales were concerned and this Mr. Basil himself complimented me.
Ms. Sonja was there for me for almost every good and bad thing that has happened in my life .Dating, Wedding, Babies, deaths ………….everything. Love that women.
In 2003, after having my first child, I was once again promoted to Manage Trincity Lingerie branch which was a bigger store. I am not sure what year, but not too long after the Accessories branch opened down stairs and I went to manage there. Brenda, a fellow foundation co-worker, who was formerly located in town came to manage the Lingerie branch.
Ms. Sonja came every week and I learnt how she wanted her store to be run, Every day there was something thing new to be learned .Ms. Sonja helped us even in our personal lives investing in courses making us  all round better  beings that's how I saw it at times.  I remember being scolded and crying but each instance made me a stronger person, because what I was about to face in life I would need to be strong. I am truly blessed to have chosen this company and having my boss in my life made a difference.
I left for a couple of months in search of other avenues, however I returned and started back in POS where I worked under Ann Marie training as an Assistant Manager and then transferred to West Mall  under Ms. Wendy.
I was once again promoted to Manager our Starlite Branch while there I had my second child.  I was eventually transferred to West Mall, and then Long Circular Mall where the journey became difficult, I got home at 8:30 pm every day not failing to mention I had a baby. When Tunapuna was opening I asked Ms. Sonja to be transferred there as it was closer to home where I currently reside today.
I had the joy of working with Ms. Sonja in opening all her stores, helping with Merchandising at that time. I being the only one with her.
Here I am 20 years later and counting.