Testimony – Shaina Brown
Current Position: Lead Cosmetic Beauty Advisor
In Pursuit of a dream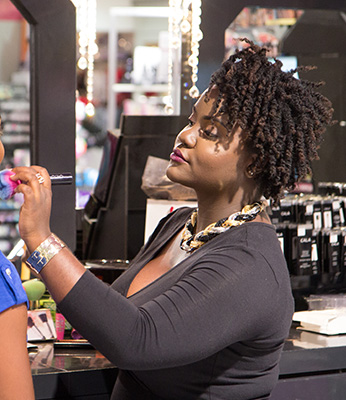 I had recently left my job of 3 years as an Administrative Assistant. I decided that my next job must be something I love doing, which was makeup and beauty. A few friends of mine tagged me to Wonderful World's employment post for the Cosmetic Beauty Adviser position, I took the chance and sent it and that is where it all began.
I at once inquired about the story of Wonderful World and my entire perspective of the company changed. I felt honored to be part of a company that started from humble beginnings which is now a house-hold name in Trinidad and Tobago.
I started as a Cosmetic Beauty Advisor in October of 2014. By April 2015, I was the Head Cosmetic Beauty Advisor at Wonderful World.  Thought to myself I want to be able to make a difference in the beauty industry. Why not with Wonderful World Ltd a company that has been empowering women for years and for many years to come.
Being at Wonderful World is Wonderful but it is hard work to keep it looking that way! Being on top of your customer service game it's not only a reflection of the company, but of yourself.
I love the fact that I meet so many beautiful women of T&T and get a chance to share my knowledge and expertise with them. My job also allows me to express my creativity without judgement.  Wonderful World is truly a Wonderful Workplace